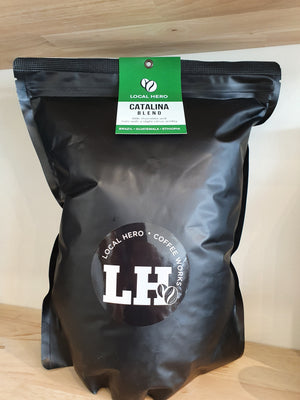 Local Hero Coffee Works
1kg Catalina Blend (Black packaging)
Introducing -  Catalina Blend 
1kg. Black packaging 
Discover the quintessential coffee experience that will revolutionize your mornings and captivate your taste buds.
Local Hero Coffee Works proudly presents our meticulously crafted coffee blend, an unrivaled staple on countless menus across New Zealand.
Immerse yourself in the perfect harmony of flavours and textures meticulously cultivated since our inception in 2015.
Our well-balanced, smooth, and refined cup of joy is guaranteed to leave you craving more with every sip.
Experience the epitome of indulgence with our smooth and medium-bodied blend, infused with tantalizing hints of milk chocolate and nuts, harmonized by a subtle touch of citrus acidity. Crafted through a meticulous medium-dark roast, this exceptional coffee caters to both espresso enthusiasts and filter aficionados.
Unlock a world of coffee perfection and join the league of coffee connoisseurs who have made this exquisite masterpiece a must-have in their lives.
Embrace the unparalleled satisfaction of Local Hero Coffee Works' must-try blend - the embodiment of pure coffee bliss