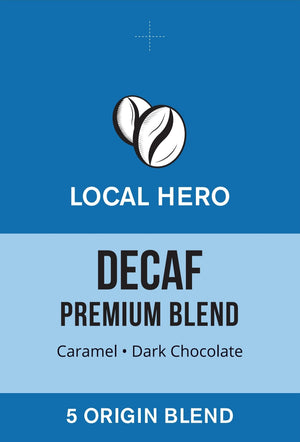 Local Hero Coffee Works
Decaf Premium Blend - -250g
Prepare to be captivated by our exquisite 5-origin blend.
Bursting with rich flavors and boasting delightful hints of dark chocolate and caramel, this coffee is a decadent treat for your evenings, all without the caffeine.
Crafted using the Swiss water process, our coffee ensures a pure and natural taste without any harsh chemicals.
Whether you prefer an intense Espresso shot or a smooth cup brewed through a plunger or pour-over method, our coffee is versatile and perfect for any brewing style.
Indulge in the enticing allure of our delectable blend, and experience a coffee that transcends the ordinary.